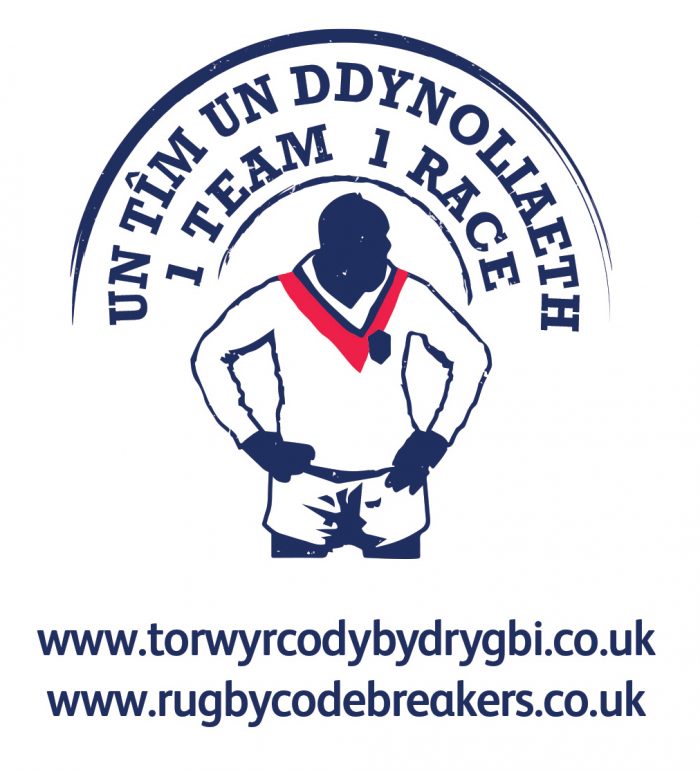 One Team. One Race: Honouring the Cardiff Bay Rugby Codebreakers
Some of the country's greatest sporting heroes are to be immortalised in a permanent artwork designed to ensure their stories – and the story of the proud and vibrant multi-cultural community which helped shape them – are never forgotten.
'One Team – One Race, Honouring the Cardiff Bay Rugby Codebreakers' launched on Sporting Heritage Day, 2020.
The project will raise money to create three statues chosen from 13 sports stars who made a telling contribution playing in Rugby League over the past 120 years.
All thirteen nominees grew up within a three-mile radius of Cardiff Bay. Many battled prejudice and racism before leaving Wales to find fame as Rugby League superstars in the North of England.
Make a donation
Help us raise the required funds to create the three permanent pieces of artwork.
Cardiff Bay rugby legends statue sculptor announced
The creation of a statue to Cardiff Bay's legendary rugby 'codebreakers', who left a lasting legacy on the world of rugby league, has taken a major step forward in its fundraising campaign.
The statue, which will honour three of the leading players who controversially moved from amateur rugby union careers to star in England's professional rugby league teams, was the subject of a fundraising campaign led by South Wales businessman Sir Stanley Thomas OBE.
Now, as it approaches its target, the fundraising committee has commissioned sculptor Steve Winterburn to create the monument to the sporting heroes, represented by Billy Boston, Clive Sullivan and Gus Risman, all from Butetown and the old Tiger Bay area.
Said Sir Stanley: "I made a commitment two years ago to achieve our fundraising target and commission the statue within two years. Despite Covid drastically impacting on our fundraising efforts, what we have achieved is remarkable.
"I would like to thank Vaughan Gething MS, the Welsh Government, Cardiff Council, as well as Gaynor Legall, the chair of the Heritage and Cultural Exchange, Gareth Kear, head of the Welsh Rugby League, our committee and advisers and, of course, the public who have donated to the cause."
Winterburn, of Yorkshire Fine Arts, has a wealth of experience memorialising sporting legends and has already immortalised Billy Boston in a statue in Wigan and created the iconic rugby league 'Heroes' statue at Wembley Stadium.
Boston, along with Sullivan and Risman, were hailed as trailblazers when they moved north, overcoming prejudice to become stars not only in their new adopted communities but also in the Great Britain teams they represented.
"They brought honour to themselves, their families, the game and the communities where they were brought up," said a Cardiff council spokesperson, "and this statue will be a fitting tribute to these heroes. We are examining the most suitable place in Cardiff Bay to site it when it is completed."
Vaughan Gething, the Senedd member whose constituency includes Cardiff Bay, said: "It has taken Wales a long time to honour some of these sporting heroes and I believe this statue will leave a long-lasting legacy where the greatness of these players is recorded for future generations."
Meet the Cardiff Bay Rugby League Giants XIII
Included among the 13 Rugby Codebreakers, who all hail from the Cardiff Bay area and surrounding neighbourhoods are:
3 World Cup winners
9 Great Britain internationals
12 Welsh internationals
3 Rugby League Hall of Famers
4 members of the Welsh Sports Hall of Fame Roll of Honour
7 players who won 17 Challenge Cup finals
The project was inspired by calls from the Butetown and wider Cardiff Bay communities for a fitting tribute to the players who did so much to improve race relations across Britain.
Businessman and philanthropist, Sir Stanley Thomas OBE, will take on the role as the chairman of the fund-raising committee, which also comprises community leaders from Butetown as well as representatives from Wales Rugby League and the Welsh Sports Hall of Fame.
The project has the full backing of Cardiff Council, having been convened by council leader Cllr Huw Thomas, who is also vice chair of the committee.
'One Team – One Race. Honouring the Cardiff Bay Rugby Codebreakers' is gaining charitable status by partnering with 'The Heritage & Cultural Exchange Archive – Tiger Bay and the World', a highly-respected charity already established in the heart of the old Tiger Bay area. The committee is also supported and advised by Capital Law and Azets Accountants.
What they have to say about the project